The Case For Outsourcing Your Financial Services Proofreading
Reviewing your own copy or relying on co-workers can be a recipe for disaster.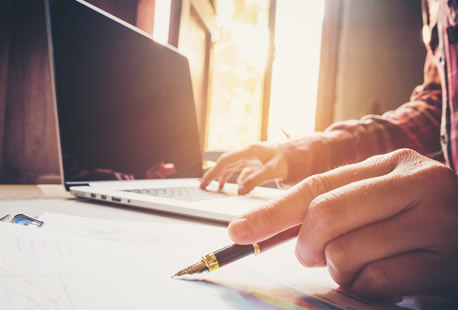 Anyone in the financial services business knows that accuracy counts in this industry. Whether your employees are sending an RFP response to a client or a prospect, an annual enrollment package to a 401(k) plan participant, or a quarterly letter to your investment advisory clients, mistakes can be embarrassing. And sometimes, they can also be expensive.
In 2007, a local car dealership came up with a brilliant plan to stimulate sluggish sales: mail out 50,000 scratch tickets, one of which would reveal a $1,000 cash prize. But the direct marketing company they hired mistakenly upped the ante when they printed said scratch tickets, making every one of them a grand-prize winner, for a grand payout of $50 million. Unable to honor the debt, the dealership instead offered a $5 Walmart gift certificate for every winning ticket.*
If your employees are proofreading their own work or relying on co-workers to review their copy, here are five reasons to consider outsourcing content review to a professional proofreader:
Proofreaders can protect your business's image. It is often said that "You never get a second chance to make a first impression." Copy that is unclear or riddled with errors can make the wrong impression and eliminate your firm from consideration by a potential new customer.
Proofreaders can save you time. Having multiple colleagues (with varying levels of expertise) proofread materials is ineffecient. Outsourcing avoids the time-consuming task of reconciling competing comments and avoids colleagues who may attempt to rewrite someone's copy.
Outside proofreaders can offer a fresh perspective. Your employees live and breath their copy day in and day out. After a while, they may become blind to errors that are obvious to others not so deeply involved in your business. We have seen businesses misspell their own names!
Proofreaders can help improve your employees' writing skills. Your employees receive valuable feedback every time a professional proofreader reviews their copy. Over time, they learn how to write better and also have a ready source to whom they can pose writing questions.
Proofreaders can offer you and your employees greater peace of mind. Knowing that you took every step possible to avoid an embarrassing mistake or omission can help you and your employees sleep better at night.
If you work for a large financial services firm in marketing communications, sales, or client communications, you may already have an in-house agency that provides proofreading services. If that's the case, take advantage of their services.
Are there additional messages or materials that could supplement our existing materials?
Are there any materials that could be consolidated or discontinued?
Are our automated communications up to date?
We completed a project for a major Boston-based financial services company that involved reviewing the dozens of different letters, emails, and reminders the company sends to employees to ensure they comply with firm policies. During the course of this project, we found many opportunities to streamline communications, reduce word counts, and write in a friendlier, more conversational tone.
When was the last time you reviewed the form letters, email templates, and brochures you send to your clients, prospects, or employees? Have you taken a fresh look at your website to see if it's still doing the job?
If the answer is never, now may be the time to step back and review all of your communications materials. This includes every written communication you send to your customers, prospects, participants, or employees. Lay them out on a conference room table or tape them to the walls. Examine everything with fresh eyes.
In the end, I am confident you will find many areas that could be improved. And if you're fortunate enough to discover that your materials need no revisions, you will at least achieve some additional peace of mind. But if that's not the case and you need some outside help, contact us.
Neil Rhein is President of Bullseye Communications, where he and his team specialize in content review and content development for financial services companies and other clients.