5 Reasons Why You Can't Rely on Colleagues for Proofreading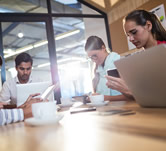 If you work in a place that cranks out large amounts of content, you know that proofreading is a critical step in your workflow process. Mistakes, omissions, and typos are not only embarrassing, but they can harm your company's reputation and cost you dearly.
When we talk with our clients, some tell us how they previously relied on their in-house peers to proofread each other's communications. If your company falls into this category, here are five reasons why you may want to consider outsourcing this vital work to professional proofreaders.
1. Your colleagues have less skin in the game. If you send me your document for proofreading while I'm struggling to hit my own deadlines, who do you think is going to get the short end of the stick? That would be you. Human nature being what it is, if I'm time-crunched I may cut some corners when reviewing someone else's work.
2. Relying on colleagues is an inefficient use of their time and talent. Relying on multiple colleagues (each with varying levels of expertise) to proofread your materials is not a wise use of their time. Proofreading demands specialized expertise. Outsourcing this task lets you and your colleagues focus on more mission-critical tasks.
3. Your colleagues lack objectivity. Because your colleagues are seeing the same types of materials day in and day out, they can develop blind spots. Outsourcing to professional proofreaders brings a fresh perspective that can identify insider jargon that may be confusing to your target audience.
4. Your colleagues are inconsistent. Only professional proofreaders are trained to apply a consistent set of rules to everything they review. Your colleagues may have varying levels of expertise and knowledge of grammar rules, which will result in inconsistencies.
5. Your colleagues are expensive. If you're paying senior associates or even manager-level employees to spend time proofreading, you're overpaying. Outsourcing your proofreading to a team of dedicated professionals may actually save you money in the long term.
At Bullseye Communications, we specialize in proofreading large volumes of communications, including employee benefits materials. All backed by our 110% accuracy guarantee. Contact us and we'll proofread your first job for free.
Neil Rhein is President of Bullseye Communications, where he and his team specialize in content review and content development for financial services companies and other clients.